Starting the new year out with a weight lose challenge.

This says it all....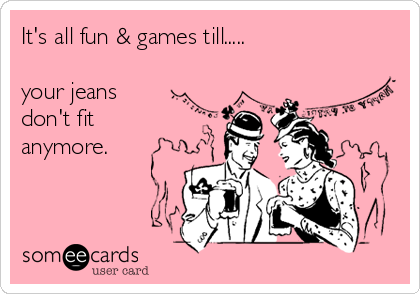 I heard some people at work talking about a challenge. I perked up and said I was in. I need to be challenged. I don't think of myself as a competitive person but if someone puts a challenge out there I'M IN!
I really want to see what I can do in 3 months. The biggest challenge will be not drinking alcohol. I am not giving it up for 3 months but I seriously have to cut back. No drinking during the week. Vodka and soda water is going to be my friend.
I am surprised at how easy it is to get up and get my walk out of the way first thing. I thought that was going to be tough for me.
Eating so far has been okay. Though while I was driving home yesterday I swear I smelled peanut butter/ chocolate no bake cookies.
I want this challenge to be life changing. I want to come out of this with some new healthy habits that will stay with me past the 3 months.
Other challenges currently doing....
2 Week Lemon Water Challenge- on the second week and feel it's something I can continue on with when the challenge is over.
Plank Challenge. Facebook gives me a daily notification that helps me remember the challenge. It's an easy one to forget. I missed a day so technically I'm on day 3.
I will post a photo later of the before.
Stay tuned to see how it goes.